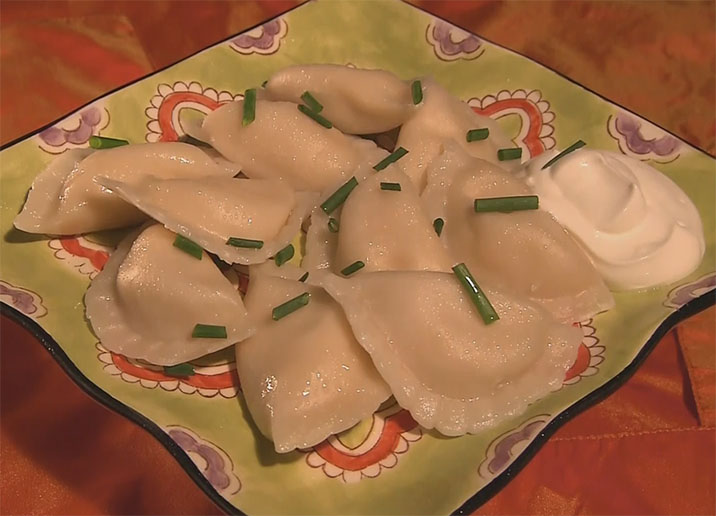 Dumplings – Production
Dumplings is a cross between raviolli, cornwali and patties, invented by the villagers, for centuries they have been popular in Eastern Europe, now we get to know them too.
Traditional dumplings were made by generations of Polish grandmothers. So today we don't have time for that making dumplings moved from the kitchen to the factory. We only need to add sour cream, chives and butter.
Production of dumplings begins with the preparation of a stuffing of potatoes and cheese. The potatoes are cooked until tender. Still hot, they go to the ground. A large amount of grated cheese is added to them, salt and spices. The rotating blades crush and mix the ingredients. Because not all of them get shredded, the mixture is passed through a grinder. From which the strainer comes out smooth, creamy mass. Stuffing is ready.
It's time for the cake. Workers pour into the mixing room, measured amount of flour, they add oil for texture and flavor and salt. They unscrew the valve and water is pouring into the machine. The mixer mixes and kneads the dough to the desired consistency.

After resting, the dough goes to a special machine for making dumplings. In the second container machinery we put the filling – stuffing. The machine presses the dough and stuffing into the forming device, which is closed for security, inside the stuffing forms a cylinder which surrounds the dough sleeve. The machine squeezes a roll of potato filling, and the dough surrounds him, forming a sausage in the skin. The rotating mold cuts individual dumplings from it, sticking them together and crimping the edges at the same time.

Perfectly formed plump dumplings leave the machine at stunning speed 50 thousand pieces per hour. The dumplings are separated, so that they do not stick together on the conveyor belt. The inspector rejects the deformed dumplings, and the rest goes to the freezer. The temperature inside is -50ºC. The dumplings traverse the freezer on a winding road. Ongoing 14 minutes. Finally, they are stone-frozen and ready for packing.
Conveyors transport the dumplings to the packing room. it's a fast journey to keep them from thawing. The dumplings go to the weighing station. Below, mechanical fingers open the bags, scales throw up 625 gram portions for each of them. Hot jaws seal the plastic of the bag.
On the way to the warehouse – cold store, the bags of dumplings pass through the x-ray machine, które sprawdza czy w produkcji nie dostały się do nich kawałki metalu lub szkła.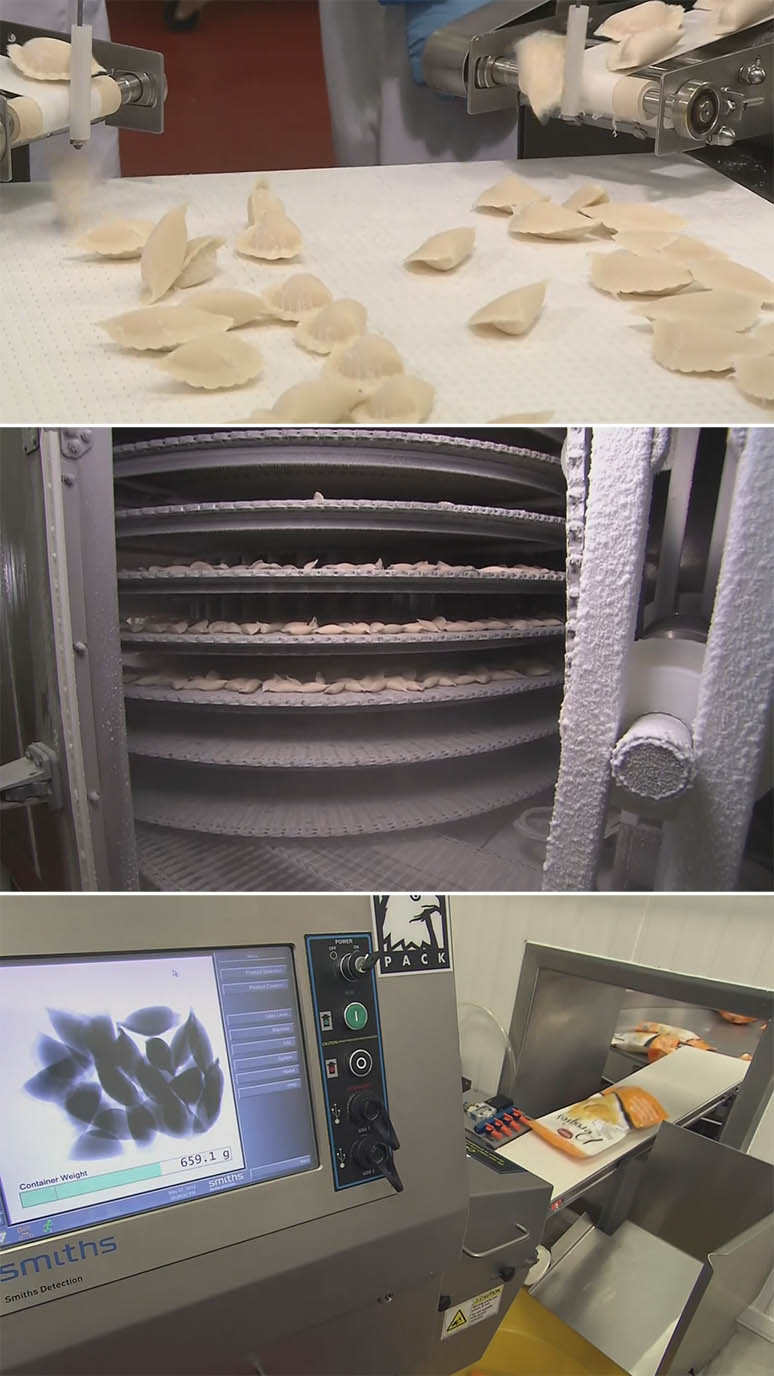 Today, dumplings have different stuffing – they even come with fruit for dessert. I like these the most – real Polish food.