Which stuffing to choose for dumplings?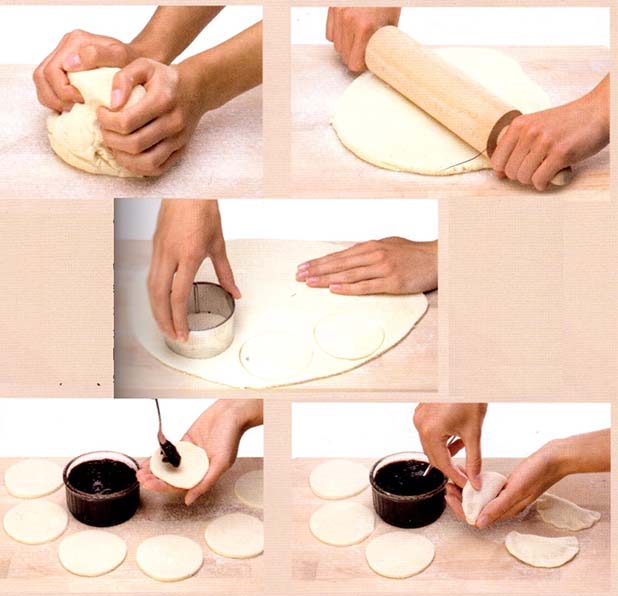 Mushroom stuffing
On 20 I took the dumplings 3 medium dried porcini mushrooms. After soaking, I cooked them through 10 minutes. I drained it and cooked the semolina in water after soaking the mushrooms. To sharpen the taste, I added a cube of Winiary broth. Slice the mushrooms thinly and mixed with semolina. To były bardzo smaczne pierogi przygotowane oczywiście przy użycie finished dumpling dough. I will add, that every dumplings (except fruit) we can fry in oil, and then they are even better.
Stuffing with white cheese and rice.
20 a dag of white cheese, 1,5 cups of cooked rice, large onion, spoon of oil, salt, pepper.
Peel the onion, chop, brown in oil, grate with cheese, combine with rice, season with salt and pepper, mix thoroughly. Serve with a muffin browned in butter.
Apple stuffing.
3 apples, sugar, lemon juice.
Peel the apples, grate on a coarse grater, sprinkle with sugar and lemon juice. Set aside for a moment to let the juice release. Sok odlać.
Pour the roux with sugar and cinnamon over the finished dumplings.
Brussel sprouts stuffing
Boil the Brussels sprouts for approx. 20 minutes in salted water. After cooking, drain off and leave to cool. We grind the cabbage. Fry breadcrumbs in butter in a pan. We add the cabbage, mix and put into discs with finished dumpling dough. Glue the rings together and cook for approx. 10 minutes. Serve topped with melted butter or fry. They taste a bit like blue cheese.
Stuffing with goat cheese
Dumplings with goat cheese and spinach: Stuffing: Half a pack of frozen spinach, natural goat cheese. After defrosting and draining the water, fry the spinach in oil and add a little salt, I mix it with natural goat cheese. This stuffing is delicious.
Stuffing with goat cheese with honey and dried cranberries: Merci Chef goat cheese with honey, spoon of cream, a handful of dried cranberries. Mix the products and put them into the defrosted discs. Stick together and boil in salted water 10 minutes.
Goat cheese stuffing with rice: Merci Chef goat cheese with herbs and garlic, some rice and a stock cube. Boil the rice in water with the dissolved stock cube. After cooking, drain it and mix it with goat cheese, garlic and herbs. Fill the thawed rings, stick them together and cook.
Farsz z kurzych wątróbek: Kurze wątróbki, cebula i olej. Cebulę drobno kroimy i podsmażamy na oleju. Wątróbki otoczone w mące smażymy na złoty kolor. Składniki mieszamy i rozdrabniamy. Ja mam specjalne urządzenie do rozdrabniania warzyw i innych miękkich produktów. To jest dosyć popularne urządzenie, taki pojemnik z korbką. Można też po prostu składniki posiekać. No i mamy masę na farsz.
Farsz z piersi kurczaka
Z kurczaka. Ugotowałam zupę pomidorową z ryżem. Użyłam do niej filet z piersi kurczaka kurczaka, włoszczyznę, rice and tomato paste a little pepper, some salt. I think, I don't have to write that the meat should be washed, peel the vegetables and stuff…, because we all know how to cook soup. The bottom line is this, that we grind the cooked chicken together with a piece of carrot on a meat grinder, parsley and celery. Mix thoroughly and put on the thawed discs. We already know that we stick and cook 10 minutes. Serve with the onion fried in butter or fry it.
Made of rice. I cook tomato soup with rice. Such rice, cooked in a tasty broth and then with the addition of concentrate, takes on a good taste. It's a good idea to leave some of this rice with a little soup. Rice for a few hours "will engage" this soup. Good as stuffing is solid. If our rice does not have a spicy taste, let's add a little more tomato paste. Really tasty and it can't be cheaper anymore.
Stuffing with coconut flakes
Components:
a glass of coconut shrims
po 1/2 glasses of sugar and milk
a tablespoon of corn flour and margarine
yolk
In a saucepan, bring the milk and sugar to a boil, toss in coconut flakes and cook, stirring, on a tiny fire, until the mass thickens. Beat the yolk with the margarine and corn flour, add to the coconut mass and cook for a while, stirring, cool.