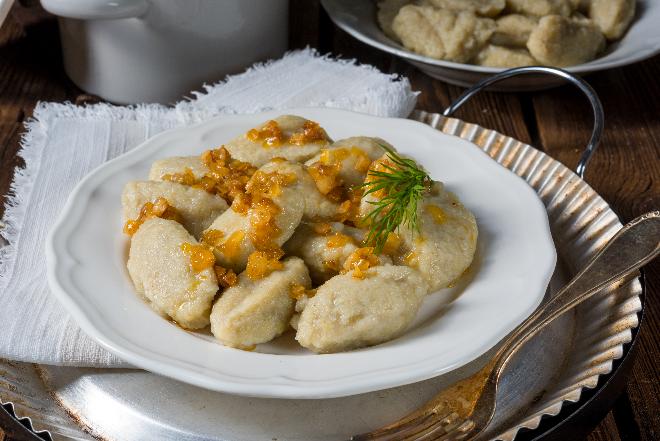 Szare kluski stanowią potrawę regionalną kuchni wielkopolskiej i kujawskiej. Prepare the dough from grated raw potatoes, which we drain with gauze or linen cloth. After removing excess water, add wheat flour – so much, to get a fairly thick consistency. Put the prepared dough into a pot with boiling salted water, sliding small portions directly from the pan with a spoon.
We can also put a few tablespoons of dumpling dough on a kitchen board, form a flat cylinder and slide it into the pot in small portions. When the dumplings flow out, drain them and pour hot water, so that they do not stick. Most often we serve them with cooked sauerkraut, cottage cheese, sometimes with boiled carrots and pour melted fat with fried onions or cracklings. Czasami do ciasta dodaje się trochę gotowanych ziemniaków oraz surowe jajko, but the dough without these additives is more delicate.
Potatoes darken very quickly when exposed to light, that's why we grind them just before frying. We keep them covered even during frying.
If we grate potatoes on a traditional grater (some say, that's for the best), put the bowl with the grater into the sink – it will be more convenient.
If we're making baby potato pancakes, be sure to remove excess water from them. Add wheat flour in moderation to the potato mass, that the ready dish is not too hard.