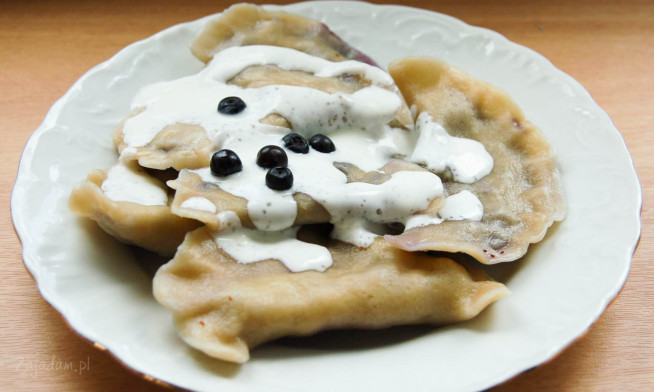 Dumplings with berries.
COMPONENTS:
2 glasses of flour • egg • approx. 3/4 glasses of water • 2 spoons of butter and a tablespoon of breadcrumbs or 1/2 glasses of thick cream for pouring
filling:
50 dag of blueberries • 1/2 cups of sugar • a teaspoon of vanilla sugar
4 portions • 60 min * • 593 kcal (100 g) • medium difficult
* in addition to cooking time
1. We prepare the dough according to the recipe for dumpling dough.
2. We pick the berries, we rinse, we drain, mix with sugar, vanilla sugar, we stuff the dumplings, we carefully stick the edges together.
3. We cook in plenty of water.
4. Brown the breadcrumbs in a dry frying pan, mix with melted butter.
5. Ugotowane pierogi wyjmujemy łyżką cedzakową, drain and put on plates. Pour melted butter with a bread roll or thick cream.