Dumplings with eggplant and Parmesan cheese in tomato sauce with fresh mint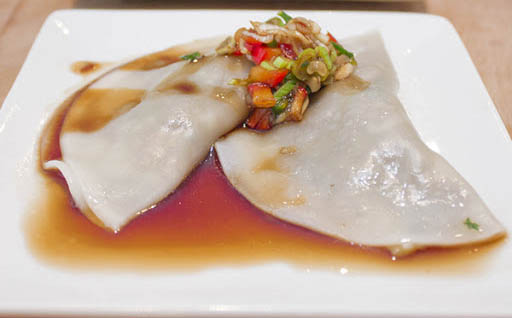 Ingredients for 2 portions:
1. Dumplings
170g of eggplant
1 spoon of olive oil
230g of flour
1/3 a glass of lukewarm water
1 egg
30g startego parmezanu
salt, pepper
2. Sos
400g of fresh tomato pulp (the flesh is weighed after peeling and cleaning from seeds)
canned tomatoes can be used
a sprig of fresh mint
1 a teaspoon of olive oil
salt, pepper
Wash eggplant, cut into 0,5 cm slices and sprinkle salt on each plate on both sides.
Put the eggplant slices prepared in this way 30 minutes, then rinse and dry with a paper towel.
On a grill pan (it can be ordinary Teflon) heat a tablespoon of olive oil and grill the eggplant after approx. 2 minutes on each side, until it becomes flaccid and characteristic stripes appear. Ready eggplant set aside to cool.
If you use fresh tomatoes, blanch them, peel them, clean the seeds and chop quite finely, while the tinned tomatoes crush and preferably knead in a saucepan with your hands.
Stew the tomatoes with a tablespoon of olive oil, until the sauce thickens (ok. 10-15 minutes), then season it with salt, pepper and add the mint leaves, washed and torn with your fingers.
Pour the flour into the bowl, make a well break the egg and pour some egg white into a small bowl (it will be needed to stick the dumplings together), while the rest of the egg is poured into the well in the flour. Stir the egg a little with a fork, then pour the water and knead a uniform smooth dough. The cake is ready, when we feel a clear change in its consistency in our hands.
Divide the dough into two parts, cover one with a clean cloth, and roll the other one into a fairly thin cake (2-3 mm) and cut out dough circles with a glass, until it is exhausted. A soaked finger
in the remaining protein, smear the edges of each dumpling , then put a portion of the stuffing with a spoon and stick the edges together twice.
Repeat the whole process with the remaining dough and stuffing.
In a large pot, bring lightly salted water to a boil. Put the dumplings on boiling water and cook 7-10 minutes.
Serve hot, topped with tomato and mint sauce.
Nutritional values
| | |
| --- | --- |
| | 597,44 kcal |
| | 23,7 g |
| | 16,56 g |
| | 90,65 g |
| | |
| | |
| | |
| | |
| | 2,25 mg |
| iodine | |
| | |
| | |
| | |
| | |
| | |
| | |
| | |