Dumplings with spinach and chicken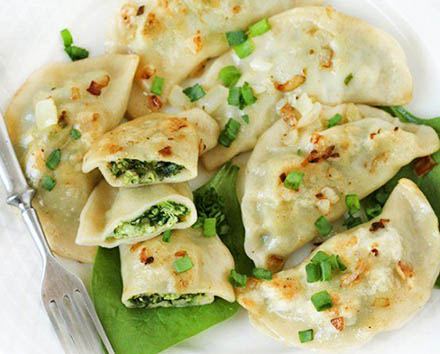 Ingredients for 4 portions:
1. Stuffing:
250g chicken drumsticks
200g of spinach
4 garlic cloves
lemon juice
1 spoon of olive oil
1 spoon of butter
salt, pepper, nutmeg
2. Dough for dumplings:
270g of flour
1/2 glasses of warm water
1 egg
3. To be served:
4 spoons of butter
Peel 2 garlic cloves and cut them into slices. Wash the chicken drumsticks and salt them. Pour a small amount of water into the saucepan, put the sticks in it, cover them with garlic slices and stew, covered, for 1 hour 15 minutes.
Leave the stewed meat to cool. If you are using fresh spinach, wash and sort it.
2 Peel the garlic cloves and chop finely. Pour a tablespoon of olive oil into the pan, add a tablespoon of butter and garlic, heat up, then add the spinach and a tablespoon of water. For fresh spinach, fry it over medium heat, until it withers, and then evaporate excess water.
When it cools down, sift through it thoroughly. If we are using frozen spinach, defrost on a slow fire, covered, and when it is completely thawed, discover and evaporate well. Season the finished spinach to taste with lemon juice, sole, freshly ground black pepper and a bit of nutmeg.
Peel the cooled chicken sticks from the meat. Finely chop the meat and mix with the spinach and breadcrumbs.
Pour the flour into a bowl, make a hole in the flour. Break the egg into the hole, by knocking out, put some of the egg whites in a small bowl (for sticking dumplings together). Stir the egg with a fork with the flour, then add the water and knead the dough (add more water if necessary). Knead the dough by sprinkling a small amount of flour for so long, until it noticeably changes the consistency. The dough ball should be smooth, compact and flexible.
Divide the dough into two parts, put one of them away with a wrapped clean cloth. The other one should be rolled out into a thin cake. Use a glass to make circles with the dough. The edge of each wheel
lubricate the dough with egg white, put the stuffing with a spoon, and then stick the dumpling twice.
When the first batch of dumplings is stuck together, put them back on a floured board, so that they do not touch each other and cover with a clean cloth.
Roll out the second portion of the dough and proceed as with the first, until the dough runs out
and stuffing.
In a large pot, bring lightly salted water to a boil. Put the dumplings on boiling water and cook 8-10 minutes. Serve hot covered with chunks of cold butter.
Nutritional values
| | |
| --- | --- |
| | 459,23 kcal |
| | 19,26 g |
| | 18,15 g |
| | 54,71 g |
| | |
| | |
| | |
| | |
| | 1,71 mg |
| iodine | |
| | |
| | |
| | |
| | |
| | |
| | |
| | |