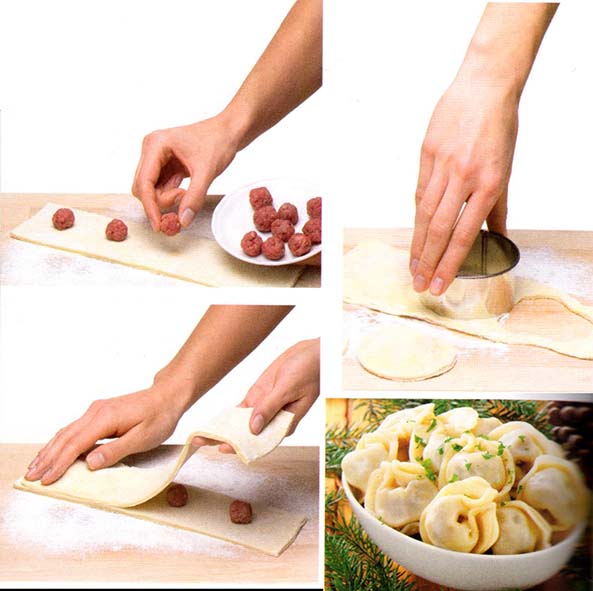 Dumplings
They came to us from the borderland cuisine. These are small or medium-sized dumplings, stuffed with raw beef and / or mutton, well-seasoned with fried onion and crushed garlic.
Dumplings are a great addition to borscht or broth. We can also serve them with melted butter.
1. Place hazelnut-sized balls of filling on thinly rolled dumplings.
2. We cover with a sheet of dough and stick the edges together.
3. Then cut out the dumplings with a small mold. Boil in boiling salted water 8-10 min (longer than ears, because the filling is raw meat). After cooking, take them out with a slotted spoon and drain.
DEFECT
We also prepare dumplings from the dumpling dough. These are tiny dumplings stuffed with mushrooms, mushrooms with cabbage or boiled meat. After rolling out the dumpling dough, cut it into squares on the side 2-3 cm, put the square on one hand, second, with a teaspoon, we put the filling and fold the dough diagonally. We glue the edges together and connect the corners of the base of the resulting triangle. We cook like dumplings, only reducing the time to approx. 3 min from the moment of their departure. They taste best during Christmas Eve dinner – with pure red borscht. Pour the soup over Uszka just before serving, otherwise they will absorb liquid – they will fall apart and lose their unique taste qualities.
We can easily buy ready-made ears, but the hand-made ones taste much better.