Gnocchi with spinach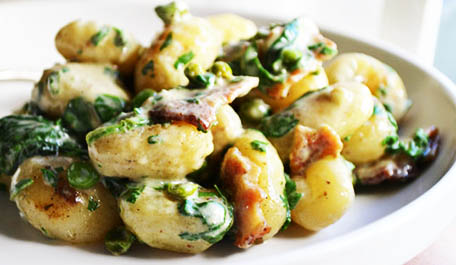 Ingredients for 4 portions:
1kg of potatoes
2 glasses of wheat flour
450g fresh or frozen spinach
4 garlic cloves
salt, pepper, nutmeg
4 tablespoons of sweet cream 12 % fat
1 spoon of rapeseed oil for spinach
1 egg
4 spoons of butter
If we use fresh spinach, wash it well, change, cut off the tails.
Heat the garlic in olive oil, add spinach and simmer approx 15 min. (if we use frozen, it should be evaporated well), at the end of stewing, add the cream. Season to taste with salt, pepper and a pinch of nutmeg.
Peel the potatoes, boil in lightly salted water. Drain the boiled potatoes and cool, and then crush it thoroughly with a potato press. Add butter, egg and flour and knead all ingredients thoroughly. Sprinkle the table top with flour, divide the dough into 8 parts, form each of them into a roller, and then cut the noodles with a knife, imprint a pattern on each with a fork.
Cook in batches, in slightly salted water. The gnocchi are ready when they come to the surface.
Serve hot with spinach sauce.
Nutritional values
| | |
| --- | --- |
| | 554,32 kcal |
| | 15,83 g |
| | 15,56 g |
| | 87,74 g |
| | |
| | |
| | |
| | |
| | 2,12 mg |
| iodine | |
| | |
| | |
| | |
| | |
| | |
| Vitamin B12 | 0,25 µg |
| | |