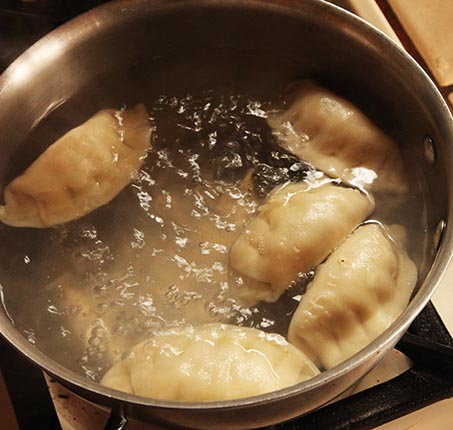 We cook dumplings
Before cooking, place the dumplings on a pastry board or a floured table and cover with a clean cloth, so that they do not dry out too much.
1. Put the dumplings in a large pot for salted boiling water in small portions.
2. We mix gently with a wooden spoon.
3. We cook approx. 5 minutes from departure on a low fire.
4. We check before taking it out, are they cooked (tasting).
5. Take out gently with a slotted spoon and pour boiling water over it, that they do not stick together.
6. Serve the pierogi with salty stuffing and pour over the fat, e.g.. finely chopped melted bacon or bacon.
Dumplings with sweet stuffing taste best, poured with cream or melted butter in a pan and sprinkled with sugar. They can also be served with whipped cream and fruit sauce.
7 . If we don't eat all the dumplings at once, they can be reheated the next day in a colander in boiling separate water or fried (except those with sweet stuffing).