Dumplings with ricotta, sun-dried tomatoes and basil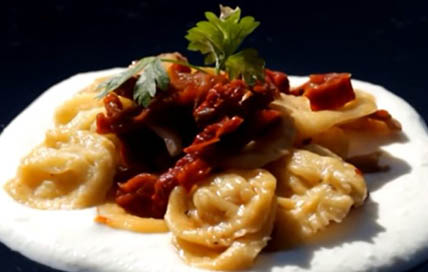 Ingredients for 4 portions (20 dumplings):
1. Stuffing:
4 dried tomatoes with pickle
a sprig of fresh basil
120g ricotty
salt, pepper
2. Dough for dumplings:
230 g of flour
½ a glass of lukewarm water
½ eggs
3. To be served:
2 sprigs of fresh basil
2 spoons of olive oil from under the tomatoes
Mix Ricotta with chopped sun-dried tomatoes and chopped fresh basil in a bowl.
Pour the flour into the bowl and make a hole in it. Break the egg into a bowl, leaving a small amount of protein in a separate bowl (it will make it easier to stick the dumplings together). Beat the egg, and then pour half of its volume into the well in the flour. Add lukewarm water and knead the dough.
Make them, sprinkling with flour if necessary, until it noticeably changes the consistency (it should be smooth and flexible). Divide the dough into two parts, cover one of them with a cloth, so that it does not dry out.
Roll out the other part of the dough into a fairly thin cake (2-3 mm) and cut out dough circles with a glass, until it is exhausted. Use a finger soaked in the remaining protein to smear the edges of each dumpling, then put a portion of the stuffing with a spoon and stick the edges together twice.
Repeat the whole process with the remaining dough and stuffing.
In a large pot, bring lightly salted water to a boil. Put the dumplings in boiling water and cook them through 7-10 minutes.
Serve hot, sprinkled with fresh basil and topped with tomato oil.
Nutritional values
| | |
| --- | --- |
| | 347 kcal |
| | 10,99 g |
| | 13,68 g |
| | 44,98 g |
| | |
| | |
| | |
| | |
| | 0,95 mg |
| iodine | |
| | |
| | |
| | |
| | |
| | |
| | |
| | |