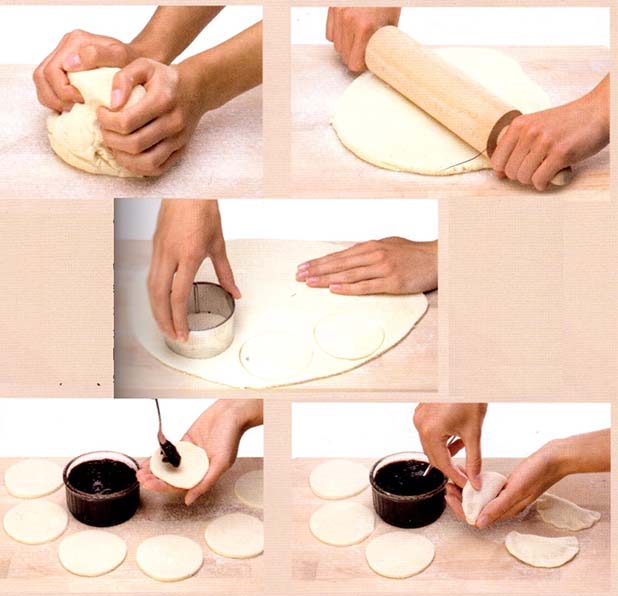 We make dumplings
COMPONENTS:
a glass of wheat flour (Wrocławska or Poznańska, type 500) • egg • 3/4 a glass of water or water with milk • 3-4 spoons of sour cream or thick cream 2 spoons of butter
FROM 1 We will make more or less kg of flour 130 dumplings. There is no need to salt the dumpling dough, enough, that we will boil them in salted water.
How to make dumplings:
1. Sift the flour onto the pastry board, we make a mound, make a hole in the center and pour in the previously broken eggs, add cream or soft butter. Mix the ingredients and gradually add warm water or water with milk in proportion 1:1. We knead the dough thoroughly, until it is soft and velvety.
2. We cover with an inverted bowl and wait 10-15 min, to "work out". We divide into smaller portions and roll it quite thinly (ok. 2 mm), lightly sprinkling with flour. We protect the dough waiting to be rolled out from drying out, by covering them with a cloth or by placing them under an inverted bowl.
3. We cut circles with a round mold or glass, possibly, cut into squares with a knife (there are no scraps of the dough as with the wheels, but they are harder to stick).
4. Wycięte kółka czy kwadraty układamy na otwartej dłoni i na środek każdego z nich nakładamy nadzienie (lekko dociskamy łyżką, aby pierogi były dobrze wypełnione).
5. Lepimy pierogi, taking care, aby pomiędzy brzegi ciasta nie wchodziło nadzienie. Staramy się wyciskać zbędne powietrze, ponieważ podczas gotowania zwiększy się jego objętość i pierogi będą pękały, a nadzienie wypłynie.