Yeast dumplings with roasted pumpkin and goat cheese dip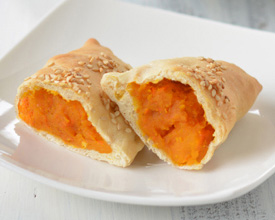 1. Dumplings
Ingredients for 2 portions:
300g of pumpkin pulp ( after peeling and cleaning from seeds)
2 tablespoons of sunflower oil
peel rubbed with half a lemon
1 a teaspoon of lemon juice
1,5 glasses of wheat flour
5g of yeast
½ teaspoon of salt
1 egg
pinch of sugar
½ a glass of warm water
Peel the pumpkin, clean from seeds and dice. Mix with oil, sprinkle with a little salt and pepper. Line a baking tray with baking paper and place the pumpkin on it. Set the oven to 200 ° C and place the pumpkin on it 20-30 minutes.
Put the baked pumpkin on a plate and let it cool down.
Mix the flour with salt. Dissolve yeast and sugar in ½ cup of warm water. Pour the yeast dissolved in water into the flour with salt and make a smooth dough. Cover the dough ball with a cloth and leave it for approx. 30 minutes to rise.
Knead the dough once more for approx. minute and then roll it out into a thin cake and cut out circles with a glass. Knead the remains of the dough again and roll it out, and then cut out circles again and so on until the whole dough is used up ( I came out 14 dumplings).
Sprinkle the cooled pumpkin with lemon juice, add the zest from half a lemon and mix thoroughly. Put the pumpkin stuffing with a spoon on each portion of the dough and stick the edges carefully together.
Preheat the oven to 250 ° C.
Line the baking tray with baking paper, put dumplings on it. Blur 1 egg and spread it over the top of each dumpling. Put into a preheated oven and bake 5-7 minutes.
2. Goat cheese dip
Ingredients for 2 portions:
80g of goat's cottage cheese
spoon of Greek yogurt
peel rubbed with half a lemon
pepper
Mix the cottage cheese thoroughly with the yoghurt, lemon zest . Season to taste with a little freshly ground pepper.
Dumplings
1 portion

470,67 kcal

12,71 g

12,16 g

77,61 g

1,26 mg


iodine

Vitamin B12

0,08 µg
Goat cheese dip
1 portion

111,25 kcal

7,83 g

8,45 g

0,97 g

0,41 mg


iodine

Vitamin B12

0,12 µg